It seems like every two years, a new article is written about how athletes are bearing the upper bounds of performance. "World records will no longer be broken," they claim. But, in every Olympics, it also seems that records still get broken.
In this year's winter games, NBC ran a short segment about the effect of the clap skate in speed skating. The clap skate is a drain and technological departure from traditional ice skates. Specifically, the blade is only attached to the skater's boot near the front of the skate leave the back of the skate to travel up and down as the skater raises and lowers her foot on and off the ice.
If I remember the TV segment accurately, the reporter remarked that this single technological innovation dropped speed skating event times by seconds per race. Great athletes often come within razor thin (I'm talking fractions of seconds) margins of besting current world records, so getting back seconds without working much harder is significant.
If you think that we've arrived at the limits of human athletic achievement or if you think technological innovation in sports doesn't really change things, take a look at these examples of how technology has made its way into (or is at least making a splash in) the 2019 Winter Olympics for yourself.
1. Self-heating winter coats (United States)
Living in America, I'm especially exposed to hype about all things Team USA, especially the team's fashion. This year, Ralph Lauren–actually a combination of design firms–added a battery-powered heat generator into the backs of Team USA's coats. Here's the thing about the Winter Olympics: it's really cold. And in a climate where mental focus is as important as physical prowess, having a cozy coat could make all the difference.
2. Nearly-illegal skin suits (Team GB)
Heated jackets aren't going to cause too much of a stir among athletes, but the skeleton suits worn by Team GB certainly have been. Much has been made this week about whether the skin-tight suits worn by Team GB's skeleton sliders–they're said to have aerodynamic enhancing features built-in, which is supposed to be illegal, some say–should disqualify the team from competition. Whether the suits are legal or not is up to the judges, but this little controversy brings back memories of swimsuit innovations that may or may not have had a hand in shattering multiple swim records just a few years ago.
3. Super-slick crotch surrounds (Speedskating)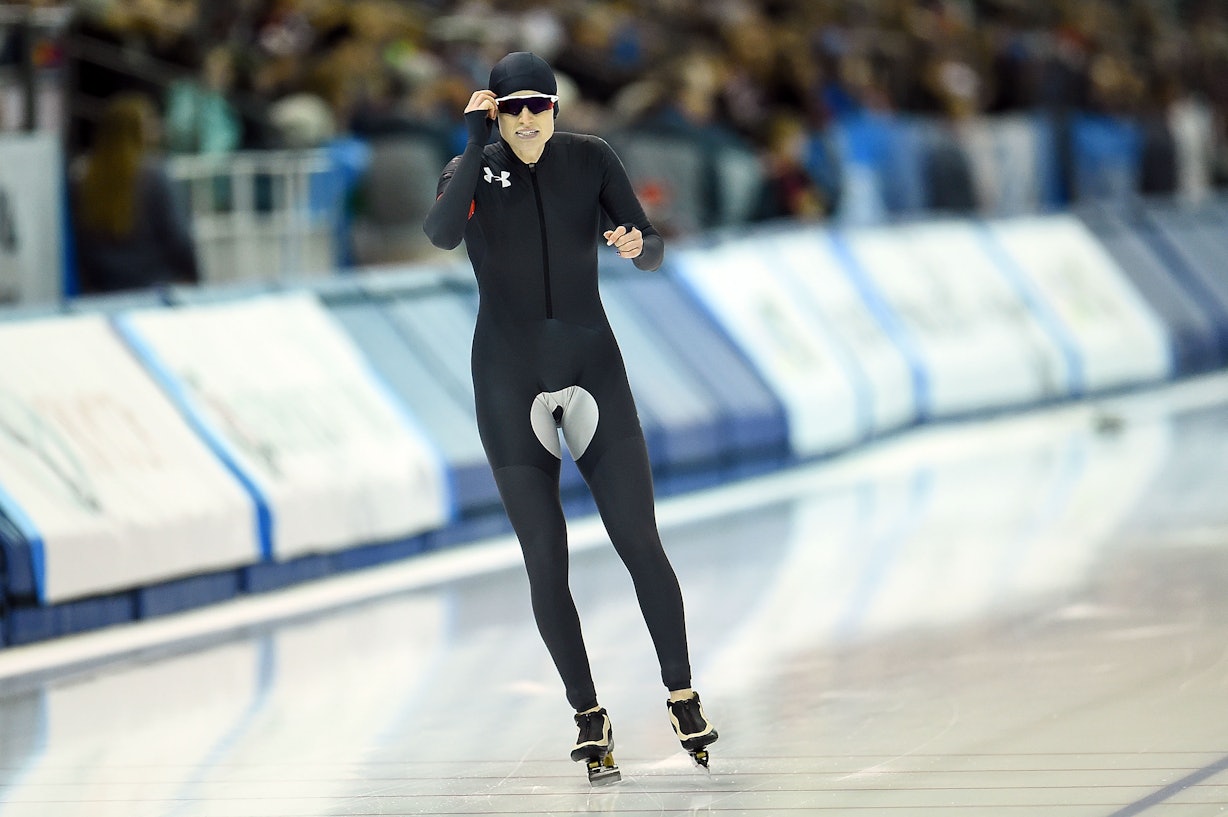 Sticking with the theme of speed, speed skaters, specifically U.S. speed skaters are getting some flack this year for their oddly colored uniforms. Specifically, the color of the crotch region of their suits. Laughing aside, were I a speed skater, I'm not sure I'd want to do away with the crotch fabric regardless of the color, which apparently reduces friction in the area.
4. Tailor-made rifles (Biathlon)
Outside Magazine ran a post recently about the 10 most difficult winter Olympic sports. Biathlon—the sport where you have to shoot a rifle after cross-country skiing for several kilometers—was ranked the hardest. And this has to do at least somewhat with the fact that athletes have to ski with rifles that are about as heavy as a shotput slung across their backs. Not sure about you, but I get tired sometimes walking to work with a messenger bag. If you watch biathlon, what you'll notice is that the shooting portion of the event is absolutely the most critical part. Favorites to win different biathlon events this year have failed to do so because they missed a target when others were accurate.
And that's why this article about the design of a biathlon rifle is so impressive. The guns are precision works of art and they are beautiful too. Each is custom-designed to fit its user.
5. Strapless Snowboard Bindings
As a skier and a cyclist, I know how amazing clip-in bindings can be to an athlete. They require no thought at all. Unfortunately, for snowboarders, creating a binding that could be both convenient and performant was basically impossible, until this year. Burton experimented for ages to get this right. This time they did and the entire industry will never look back.
If you liked this post, share it with someone or leave me a comment. I read everything. 🙂
I downloaded the feature image from Unsplash.